Body positive – how to think better of yourself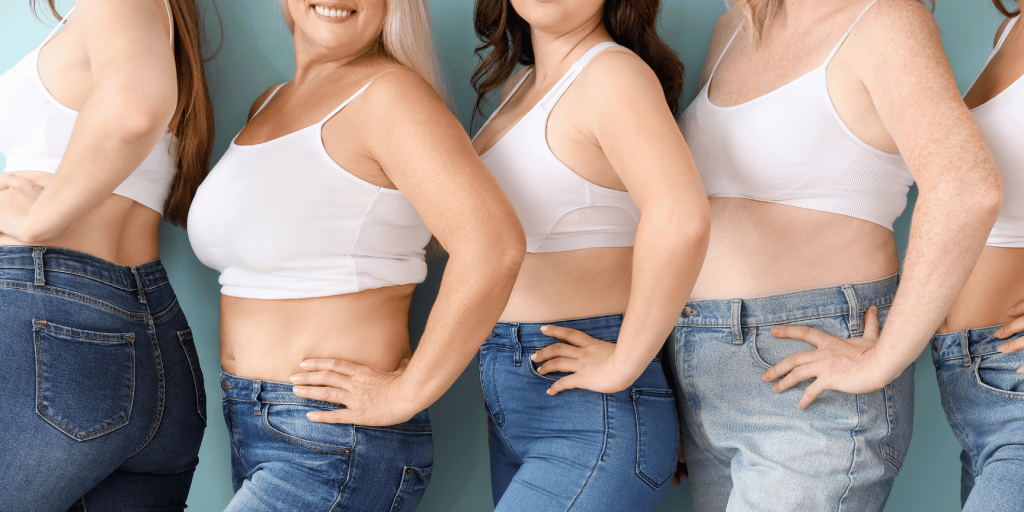 Do you really want to be defined by your clothing size? After all, you are definitely more than the number on the tag! Learn the principles guiding the body positive movement and free yourself from limiting beliefs.
Looking back, we will see that for decades society has imposed beauty canons on others. Wearing corsets used to be fashionable, which unnaturally modeled a woman's figure and caused great discomfort. At the beginning of the 21st century, it was fashionable to have a silhouette devoid of curves, while today curves are in trend, but only if it involves breasts or buttocks. How do the imposed beauty canons affect our self-esteem? How do we break out of the patterns established by society and start living according to our own rules? We invite you to read more!
The origins of the body positive movement
The body positivity/body positive movement, known in Poland as body positivity, was started in 1996 by psychotherapist Elizabeth Scott and her protégée Connie Sobczak, who was treated with her for an eating disorder. Inspired by their own experiences, the women founded the Body Positive Movement Foundation, thereby laying the foundation for the body-positive movement as it is known today.
What is the body positive movement?
The goal of the body positive movement is to promote acceptance of one's own body, regardless of its imperfections. This applies not only to weight issues but also to race, skin appearance, or disability.
Although the imposition of beauty canons on people has been going on for a long time, with the development of technology, the Internet and later social media, this has taken on a whole new reach and power. Virtually at every turn, we come across pictures of perfect-looking women and men. However, we forget that slim waists, muscular bellies, large but firm breasts and buttocks without an ounce of cellulite are most often the effects of Photoshop or aesthetic medicine procedures, not a natural-looking body. All this creates one impression in the recipient – I'm ugly, I need to change.
Constant comparison with "perfect bodies" reinforces complexes and greatly adversely affects the self-esteem of recipients. In extreme cases, it can lead to eating disorders, depression and even suicide. By normalizing imperfections, we increase public awareness and raise awareness that every body is different, equally valuable, and beautiful in their own unique way. And that's what body positivity is all about!
5 basic principles of the body positive movement
1. Accept your imperfections
Look at your body with a gentle eye and appreciate not only what it looks like, but most importantly what it allows you to do. The legs allow you to get up every morning and achieve your next goals. The hands with which you hug your loved ones or the belly that was the first home for your child.
2. Don't compare yourself with others
Although we see one recipe for happiness on the Internet, ours may look very different. Comparing yourself with others doesn't bring anything good to your life, and can only negatively affect your well-being and self-esteem. Why do you compare yourself to someone without knowing their whole story? Starting from a completely different point, do you really think your path will be the same? Another question is, do you really want the same thing? And if so, why? Find your own way and live your life the way you want, not the way society imposes on you. And this is true whether it concerns your appearance or your idea of life.
3. Take care of your physical and mental health
Body positivity assumes that accepting yourself and your body does not exclude working on yourself. Taking care of your health and mental and physical well-being is a sign of self-love. A healthy diet and movement are the cornerstones of a healthy lifestyle, which benefits our self-esteem and increases our sense of agency. Start making healthier food choices and find activities for yourself. Make a healthy lifestyle an enjoyable part of your daily life.
4. Treat yourself like a best friend
Would you also tell a friend that he is fat, ugly and stupid? Do you think it would motivate him to change and take care of his health? Or, while you know his weaker points well, do you accept them and at the same time appreciate him for his qualities? Going further, if you can treat a loved one this way, why not start treating yourself the same way?
5. Step outside the box and reject the imposed canons of beauty
Consider how the canons of beauty have changed over the centuries. What was once considered a symbol of beauty is now a faux pas. Do you really want to live your life trying to fit into what is imposed on you by a product of someone else's imagination? Is it really the fact that you come in a size L and not an S that should affect how you view yourself? Take care to keep your body healthy and fit. Remember that no matter what you look like, you are just as valuable a person.

Obesity, and the body positive movement
Where there is popularity, there is also criticism, and this has not escaped the body positive movement either. Many people accuse body positivity of promoting obesity. However, this is not true. Although the movement fights fat-shaming, that is, shaming people because of their body weight, its goal is to promote acceptance of one's own body, but also to take care of mental and physical health.
Remember that both obesity and eating disorders are diseases that need to be treated. If you feel that this problem may apply to you, then go see a specialist for a consultation.
Looking for motivation and support? Join the Fitatu support group on Facebook and achieve your goals with other Fitatu® app users. To learn more about the benefits of support groups, read the article Support groups – why are they needed?.
Download the app from the Play Store or Apple Store and start taking care of your diet and health in a sustainable way! Don't like ads and want access to all the features? Opt for the Fitatu® Premium plan! We have prepared a discount code -20% for blog readers: SELFLOVE-D. Go to https://www.fitatu.com/app/order-and-payment and enter the code when shopping. In the case of an annual subscription, the service renews at the end of the annual period under the same terms and conditions, unless canceled by the user). 
More than 2,000 recipes plus dozens of new ones every month,
additional intermittent fasting plans,
ability to create shopping lists, 
6 ready-made menus with meals,  
filtering of products and recipes, 
more synchronization with fit apps, 
web-based access to the app,
no ads!
Older entries: