The ketogenic diet – what it is and what its principles are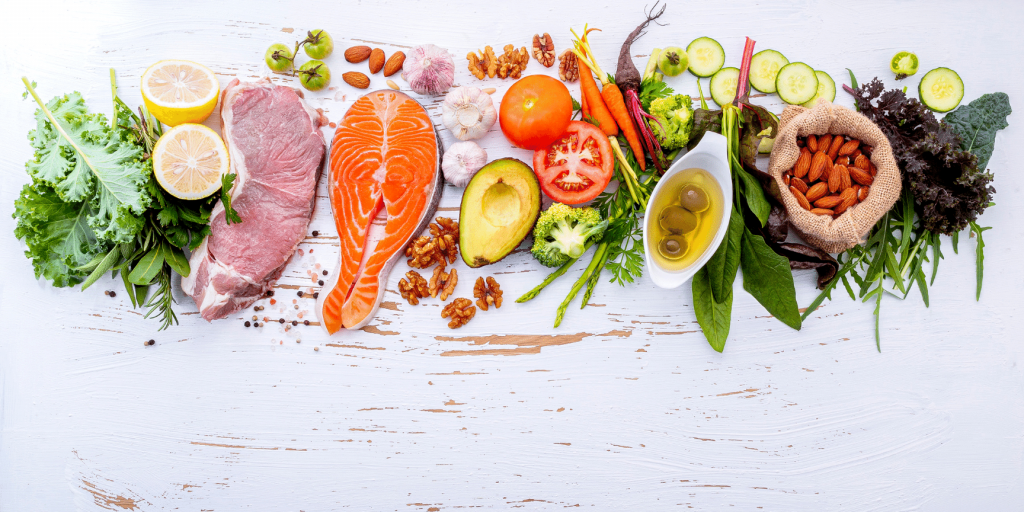 The ketogenic diet is one of the high-fat diets. In this article you will find comprehensive answers to your questions about the keto diet – what it is characterised by and what effects it has on the body. You will learn what to avoid and what to choose while on this diet. You can also use our menus.
The ketogenic diet – what is it?
The ketogenic diet, also known as the keto diet, is one of the diets rich in fat and low in carbohydrates. Its principles are defined in a nutshell by the phrase 'eat fat to burn fat'. So, in general, the keto diet consists of eating the right amount of fats (the vast majority of which are fuel for the body), proteins and, to the least extent, carbohydrates. An exemplary ketogenic diet assumes that as much as 60-80% of meals will be fats and the remainder will be carbohydrates and protein.
The aim of the diet is to put the body into a state of ketosis, a situation where the body burns fat most efficiently from its own reserves. A high concentration of ketone bodies causes, among other things, a reduced appetite. It is therefore a desirable state for anyone wishing to lose weight. Is it worth switching to a ketogenic diet? You will have to decide for yourself. Beforehand, however, familiarise yourself with the basic principles of the ketogenic diet – what is it, what can you eat and what should you avoid?
The ketogenic diet – principles
The principles of the keto diet are mainly based on consuming adequate amounts of fats and proteins with a reduced supply of carbohydrates, which is ultimately supposed to put the body into a state of ketosis. Ketosis, as a state of the body, is when there are more ketone bodies in the blood produced by the breakdown of fats than glucose. In a state of ketosis, the body selects ketone bodies as the preferential fuel. In short, the body's fuel in this case is fat rather than carbohydrates.
The ketogenic diet therefore involves eliminating almost all sources of carbohydrate acquisition. So if you are planning to go on a keto diet, you should cleanse your kitchen of these ingredients. You need to give up bread, cereals, oatmeal or millet and other carbohydrates that will limit your body's ability to go into ketosis. The principles are simple – limit carbohydrates, although don't eliminate them completely.
The ketogenic diet – effects
As with any diet, in order to get the results you want, you must first of all be persistent and consistent. The ketogenic diet is no exception to this either. However, the effects resulting from this diet are an individual matter. A lot depends on your body, environment or lifestyle when you start a new way of eating. Some people will be able to see the first results after just one week on the diet, while others will need more time to switch their bodies to a different way of eating and achieve the desired results.
It is up to you and your individual needs how you adapt the ketogenic diet to your lifestyle. It is worth remembering here that weight loss can be blocked by eating too many or too few calories. Choosing the right diet will certainly be easier with our Fitatu app. Not only will it allow you to determine the appropriate calorie content of your meals, but with the app you can also set your own daily target for macronutrient ratios. This is equally important for the keto diet.
However, the ketogenic diet has a number of advantages that are worth bearing in mind. First and foremost, it supports weight loss and fat loss. It improves the function of the heart, kidneys and other body systems. Blood pressure is also lowered, and sugar, cholesterol and triglyceride levels are reduced. This in turn prevents heart attacks, strokes and atherosclerosis. However, these are effects that are possible with a conscious and balanced diet and it is only up to you to decide whether following this diet is for you.
The ketogenic diet – what to eat and what to avoid?
You already know what the ketogenic diet is all about. What to eat while following it is another important question. First of all, you need to adapt your body to the new way of eating. As a beginner, you should reduce your carbohydrate intake significantly (up to 5%). Only at a later stage can you start gradually introducing more carbohydrates into your diet, while monitoring your body's condition. However, if you have already gone through the adaptation stage, and you are wondering what you can eat on a keto diet, it is worth looking at the bullet points below.
What to eat on a ketogenic diet?
It is advisable to eat primarily foods such as:
eggs,
meat,
full-fat fish,
full-fat dairy products,
healthy fats,
nuts,
water,
tea,
coffee.
And as sources of carbohydrates (which should not be completely eliminated):
green leafy vegetables (lettuce, rocket, rocket, lamb's lettuce, spinach, kale),
Brassica vegetables (cabbage, cauliflower, broccoli),
asparagus,
tomatoes,
peppers,
cucumber,
berries (blueberries, blueberries, strawberries, gooseberries, raspberries, currants). 
What should be avoided on a ketogenic diet?
What, on the other hand, should be avoided? Limit products such as:
sweets,
pasta,
low-fat dairy products,
alcohol,
high starch vegetables,
legumes,
high sugar fruits,
processed sauces with added sugar,
bakery products.
Sample ketogenic diet – menu
Due to the severe restriction of products, composing meals on a ketogenic diet may not be easy. You can therefore use our short menus for inspiration. You can also seek the support of a dietician or use the Fitatu app to help you plan your meals. The Fitatu app will not only allow you to choose the right dishes, but it will also make it easier to check your hydration or help you check the calorie content of your meals. A great advantage of the app is also the ready-made product database (including less popular products) and the possibility to enter the specific weight of meals. This streamlines calculations and allows for efficient tracking of progress in weight loss or muscle mass building. It also makes it easier to compose meals on the keto diet.
A sample keto diet menu that you can also enter in the app:
Breakfast: shakshuka, cup of black coffee with cream.
Second breakfast: roast chicken breast with roasted courgettes and tomatoes.
Lunch: fried cod, tuna salad with lettuce, tomato and mayonnaise.
Afternoon: salad with avocado.
Dinner: steamed fish with boiled vegetables and Greek yoghurt-based sauce.
Ketogenic diet – contraindications
The ketogenic diet will not work for everyone, as general good health is required. If this is not the case, it is essential to consult your doctor before starting it. And although this diet is a significant aid in the treatment of, for example, insulin resistance, obesity or hypertension, it should not be used by people with liver or pancreatic disease. Also diabetics and obese patients should consult a doctor. If used improperly, it can lead to a state of ketoacidosis.
Switch to a keto diet with the Fitatu app!
Used with care, a ketogenic diet can do a lot of good for your body. And although it's not for everyone, it's worth consulting your doctor about the possibility of switching to a keto diet. However, if you decide to do so, the Fitatu app, which you can download from the Play Store or App Store, will certainly help you compose your meals. It will give you access to a huge database of recipes, a calorie calculator, as well as reports and statistics on your activities. You can also upgrade to the premium version, where a keto menu is available, making it much easier for you to follow your diet. Try out the Fitatu app today!
Do you prefer the web version? No problem. A basic web version is prepared for our subscribers. And now you can use the KETO-U discount code by going to https://www.fitatu.com/app/giftcode and get 29% off your monthly Fitatu Premium.
What else can you find in Fitatu Premium?
over 1000 recipes plus several new ones every month
additional plans for intermittent fasting
the ability to create shopping lists
a choice of six ready-made menus full of meals to choose
filtering products and recipes
more synchronization with fit apps
access to the application in the web version
no ads!