How many calories we burn by engaging in summer activities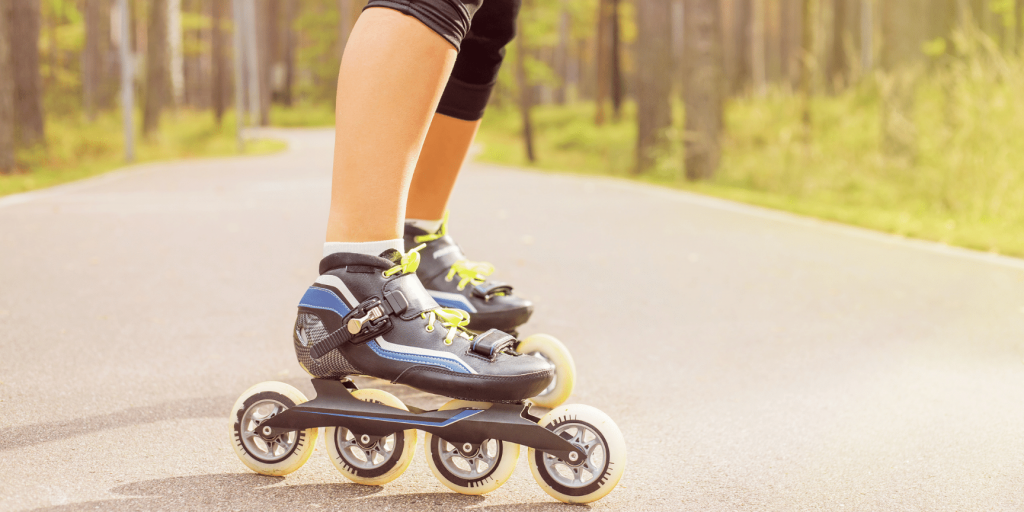 You can successfully burn calories during various summer activities. This applies to sports, such as rollerblading, as well as everyday activities such as climbing stairs or mowing the lawn. Would you like to know how many calories we burn while doing them? Read the article!
Burning calories in summer – it's not that difficult!
Summer and holidays are a much-awaited period. It is a time to catch your breath and take a break from work, as well as to finally find some time for yourself. Sunny weather encourages us to spend more time outdoors and engage in summer activities. And although we associate summer first and foremost with holidays and a break from everyday activities, this does not have to mean laziness from morning to evening. It's the perfect time for summer fun, relaxation and doing the things you don't have time for in your daily rush. So it's a good idea to combine relaxation with summer physical activity – that way you'll burn calories and have fun at the same time. Playing summer sports and staying active on holiday are some of the best ideas for making the most of your free time.
Skipping, rollerblading or going for a brisk walk – any of these activities will keep you fit. It should be added, however, that everyday activities also engage our energy, so we can combine the pleasant with the useful. It is worth considering which are the most effective in this respect, how many calories we burn during the various activities and how the muscles and body are involved in the movement.
It is good to know the benefits that each of the activities presented brings. Awareness and knowledge of this will allow you to match the right movement to your lifestyle and preferences, and will help you to get a great workout during your daily summer activities. So choose what will make you most happy and do something good for yourself today!
Cycling, skipping rope or maybe… mowing the lawn?
Sport is good for you – we have all heard that phrase more than once. And although it seems obvious, the positive impact of sport on our lives cannot be overestimated. Regular physical activity has a positive impact on our cardiovascular system, reducing the risk of various types of heart disease and preventing the development of hypertension. It also helps to reduce cancer, keep the body's metabolic functions healthy and maintain a healthy figure. In addition, it improves the body's immunity and gives you plenty of energy for action.
So there is no denying that sport is simply the thing to do, and it is definitely not worth limiting it during the holidays. Although we may associate summer mainly with a time of blissful laziness, it is worth choosing for yourself activities that will successfully help you to stay in perfect shape also during the summer months. This is, after all, the perfect time for all kinds of outdoor activities. Skipping, walking or rollerblading are activities that have a number of different benefits – they have a positive effect on your body and burn calories.
However, it is not only during sport that you burn calories. Everyday activities also make you fit. Whether climbing the stairs, gardening or mowing the lawn – each of these activities requires a certain amount of energy from you. If you move frequently and a lot during the day, you may burn more calories than you think. A variety of random activities can consume around 30-50 extra calories – over a 12-hour period this can be as much as 360 to 600 calories. And that's as much as exercising at the gym. Even standing up burns extra calories. So if you can take the lift – choose the stairs, work out standing up or walk a lot, and you'll certainly notice the effects quickly.
How many calories do we burn during summer activities?
Being active in the summer or playing summer sports is, as already mentioned, a great way to spend your summer holidays. Burning calories and improving physical shape is also one of the positive side effects. However, how many calories do we burn during everyday activities? It is worth realising this, and the following overview will certainly help you to do so.
How many calories does skipping burn?
Skipping is one of the simplest forms of aerobic training. It is handy and convenient because you can take it anywhere. Skipping training works the muscles of almost all body parts (arms, shoulders, forearms, buttocks, calves, thighs or back). The blood also circulates faster. And systematic exercise with skipping leads to weight loss and improves balance. How many calories does skipping burn? When skipping you can burn around 574 kcal per hour.
How many calories does rollerblading burn?
This is a question that many inline skaters are probably asking themselves. Rollerblading is a typical endurance workout, just like cycling or swimming. During moderate exertion over a long period of time, your muscles use the energy created by burning fatty acids released by the process of lipolysis from adipose tissue. For this process to be triggered, however, you should rollerblade for at least 30-35 minutes at a moderate pace. How many calories does rollerblading burn? Successfully around 600 kcal per hour.
How many calories do we burn when spinning a hula-hoop?
Exercising with a hula-hoop wheel is not only great fun familiar from childhood. Spinning this plastic hoop is also an effective way to burn calories and sculpt your waistline. Regular exercise with this device makes the abdomen firmer and the waistline more defined. Besides, spinning the hula-hoop is a great way to improve your fitness and mood. Does hula-hoops lose weight? Of course! One 30-minute session burns about 200 calories and the first effects can be seen after only 2 weeks of regular exercise.
How many calories does climbing stairs burn?
As we have already mentioned, you can also burn calories during everyday activities. This includes taking the stairs. So if you have a choice between taking the lift or taking the stairs, definitely choose the latter. In 60 minutes of climbing the stairs you can burn up to 800 kcal. It is definitely worth betting on the activity of climbing the stairs. The calories you will lose are clear proof that you can be fit even in ordinary activities!
How many calories do we burn while walking?
Walking, whatever the season, is a great way to relax. Walking is also a factor in the fitness of the whole body. It improves the cardiovascular system and does not strain the spine and joints as much as running does. It is therefore an excellent activity for people struggling with obesity. However, if you want to lose weight, it is advisable to go for a faster walk. How many calories do we burn while walking? If you walk slowly, you burn around 200 calories per hour. However, walking faster is up to around 500-600 kcal in the same amount of time!
How many calories does cutting the grass burn?
Working in the garden is also a great way of combining pleasure with utility. Mowing the grass, for example, can give you lots of benefits. The calories burned by doing this activity for 25 minutes is around 187 calories.
Burning calories in the summer – it's easier than you think
When you are on holiday, it is not worth giving up exercise. Not only can it be great fun, but it can also bring you additional benefits in terms of calorie loss and general fitness. The Fitatu app can help you find the right exercise to suit your preferences and lifestyle. With it, you can successfully create shopping lists or check your calorie intake. The app also has fitness functions in the form of exercises and allows you to synchronise your data with sports apps.
Download the application from the Play Store or Apple Store and start counting your macros with us!
Do you prefer the web version? No problem. A basic web version is prepared for our subscribers. And now you can use the ACTIVITIES-4 discount code by going to https://www.fitatu.com/app/giftcode and get 29% off your monthly Fitatu Premium.
What else can you find in Fitatu Premium?
over 1000 recipes plus several new ones every month
additional plans for intermittent fasting
the ability to create shopping lists
a choice of six ready-made menus full of meals to choose
filtering products and recipes
more synchronization with fit apps
access to the application in the web version
no ads!