Fitatu® Premium Widget – a new feature in the app
The highly anticipated new Fitatu® Premium Widget feature is now available in the app! Find out what the widget looks and works like, why you should use it, and how to add it to your home screen.
A widget is a miniature application that can be placed on one of your phone's home screens. It is useful for apps where certain data changes and we are interested in regular but quick updates of information, without having to fully open the app.
Fitatu® Premium Widget – two sizes to choose from
With the latest update of the Fitatu® app 3.30.0, the possibility to set a
Fitatu® Premium Widget. The user has a choice of two sizes:
mini – a simplified form of the widget in the shape of a square. It shows how many calories we have left to fill up for the day. By clicking on the widget, the user is taken to the menu with today's date.
widget – shows the remaining calories and macronutrients to be completed that day with helpful graphs. From the widget, it is possible to go directly to the product scanner or the product or food finder. This greatly simplifies the process of completing the menu.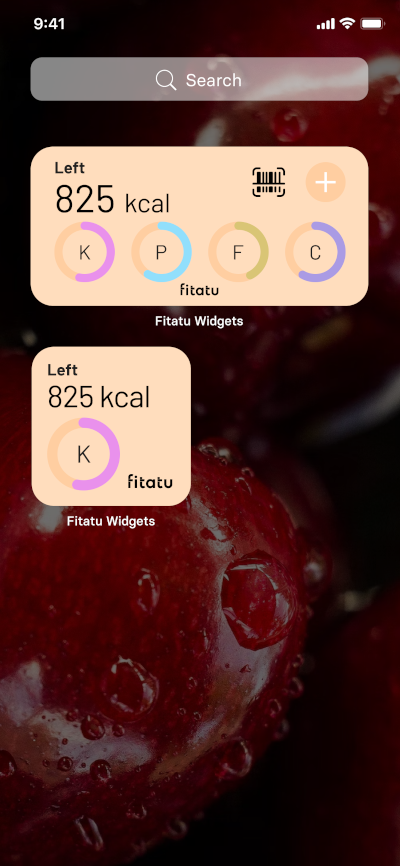 The Fitatu® Premium Widget – why use it?
The Fitatu® Premium Widget is a novelty that we are proud of. Why? First of all, because many users have asked for this functionality and we are happy to respond to your needs.
So why use this feature?
you stay up to date with your daily targets,
you are more motivated to keep to your daily calorie limit,
you can manage your daily macronutrient requirements more easily,
you can quickly add a new product to the menu from your phone screen, without having to enter the app,
Combined with the Supplement Daily Target function, we will tell you which foods and products to use to supplement your remaining daily calorie and macronutrient requirements,
and with this, you increase your chances of achieving your goal!
The Fitatu® Premium Widget and the completion of your daily target
If you have our app, it is probably your goal to reach and adhere to your daily calorie and macronutrient limit. However, in order to keep good track of this, the most important thing is not how many calories you have already consumed, but how many you still have left to replenish for the day. The widget will show you just such data and thus make it much easier to reach your daily target!
How do I add the Fitatu® Premium Widget to my phone screen?
The widget is a mini-app, so it is added not from the Fitatu® app, but from the phone settings. How do you do it? It is set up differently on iOS phones and on Android phones. We provide brief instructions below.
Adding a widget on Android:
Tap and hold an empty space on the home screen (or slide two fingers on the home screen for Huawei phones).
Click Widgets .
Slide your finger to find Fitatu's widget.
Click on the widget. The available widget types will appear.
Drag the widget to the desired location. Release your finger.
Adding a widget on iOS:
On the Start screen or in the Today view, press and hold a widget or blank area until the apps starts to shake.
Press the "+" button in the top left corner.
Make your widget selection, then click on Add widget.
Press Done.
Add the Fitatu® Premium Widget to your phone's screen and discover that dieting has never been so easy!
Fitatu® app
Download the app from the Play Store or Apple Store and start counting your calories and macros with us!
Or maybe you want to test the Fitatu® Premium Widget? For blog readers, we have a special discount code for -29% on monthly Fitatu® Premium: WIDGET-G. 
What else can you find in Fitatu® Premium?
More than 2,000 recipes plus dozens of new ones every month,
additional intermittent fasting plans,
possibility to create shopping lists, 
7 pre-prepared meal menus,  
filtering of products and recipes, 
more synchronization with fit apps, 
access to the app in the web version,
no ads!